Important notice regarding oil trading with DTT - 15/05/2020
Dear trader,
Kindly note that due to the recent increase in volatility in OIL trading and lack of liquidity at major banks and institutions, DTT will limit the trading on OILUSD per client to 9000 barrels maximum (250,000 USD in total Value) and 3000 barrels per one trade.
This is a temporary measure and will be restored to normal levels as soon as liquidity is back at major Liquidity providers institutions.
For any further clarifications, feel free to email us at management@globaldtt.com
Important notice regarding May Trading Hours - 08-05-2020
Dear Client,
Please note that trading on some CFD and metals will stop in observance of the U.S Memorial Day on 25 May. Trading hours for Forex pairs and Cryptocurrencies will not be affected.
Contact us at sales@globaldtt.com if you have any questions.
Thank you.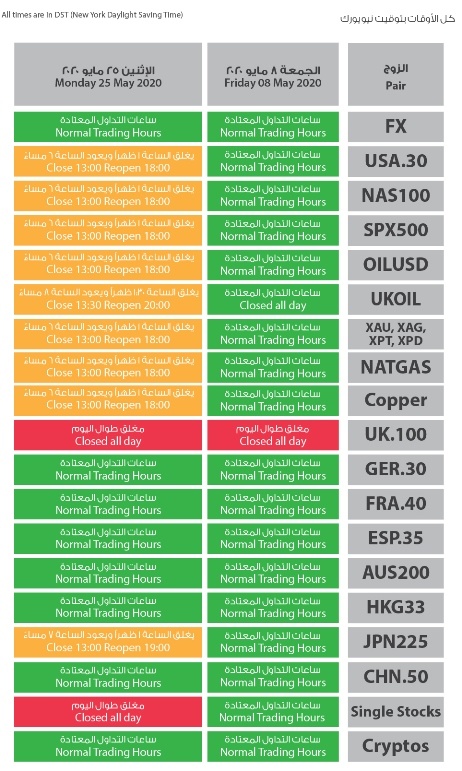 Important notice on Turkish Lira Currency Pairs - 07/05/2020
Dear trader,
Due to recent economic turmoil in the Turkish region, the Lira has dipped to all-time lows. As a result, we are temporarily imposing a "close only" policy whereby no new positions on USDTRY, TRYJPY, and EURTRY can be placed.
Once the situation stabilizes, we will resume normal trading on all Turkish Lira pairs.
During these exceptional times, we strongly advise you to watch your margin level in real-time and ensure you have enough funds available to avoid any liquidation during volatile periods.
For any further clarifications, feel free to email us at management@globaldtt.com
Important notice regarding oil trading with DTT - 24/04/2020

Dear trader,
Kindly note that following the extreme volatility in the oil market and the low liquidity from our liquidity providers and banks, DTT will no longer be able to cover the overnight storage fees of oil barrels due to recent policy changes at bank and liquidity providers.
In order to maintain the highest levels of customer service to our client, DTT will still cover overnight charges for its clients on oil contracts until the end of April 2020. Starting May 1 2020, DTT will stop covering it and the client will pay daily swaps.
The fees are equivalent to an average of 0.8% of the value of the oil contract.
During these exceptional times, we strongly advise you to watch your margin level in real time and ensure you have enough funds available to avoid any liquidation during volatile periods.
For any further clarifications, feel free to email us at management@globaldtt.com